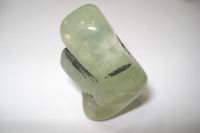 Hardness : 5
Found at : South Africa
Color : Green, yellow, white, brown
Treatment : It is useful for diagnosis, reaching the root cause. Heals the kidneys and bladder, thymus gland, shoulders, chest and lungs. Cures gout and blood disorders, restores connective tissue in the body and can stabilize the malignant tumors.
Placement : For prophecy, vision and guidance place it on the third eye.
Features : It is a stone of unconditional love, for the treatment of therapists. Soothes nightmares, phobias and deep fears, treating the disease.
Stone sign : Libra