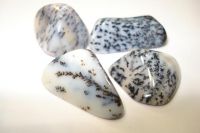 Hardness : 6
Found at : New Mexico
Color : Black and white, together
Treatment : Μerlinitis can be used for the treatment of past lives and to bring harmony in this life. It balances the yin-yang effects and the masculine and feminine energy.
Placement : Wear it around your neck or place it behind your ears to access past lives.
Features : Merlinitis is a magic stone that keeps the footprint of the combined knowledge of shamans, alchemists, wizards, priests and other workers of magic. Facilitates the reading of the Akashic records, including trips to the past and future lives.
Stone sign : -