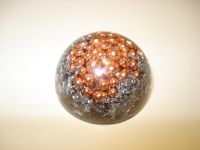 Bull table orgonite, big sized
It consists of copper (in balls, dust and spiral), aluminium and seven specifically arranged minerals : quartz, black tourmaline, dark amethyst, garnet, peridot, lapis lazuli and hematite.
All these minerals, along with aluminun and copper, make this ethereal converter, orgonite or orgone device.
A little larger in size, it can be carried in a bag or pocket and it has all the above minerals and metals.
Diameter : 4 cm
Price : 15  €