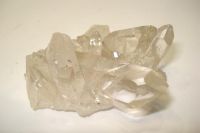 Hardness : 7
Found at : Brazil, Africa, Madagascar, Greece, Russia, Germany and worldwide
Color : colorless
Stone sign : Capricorn
Treatment : immune system, burns, toothache, migraines, headache
Placement : Place it in an appropriate manner.
Properties : It eliminates radiation. Quartz is the best treating stone as it can be used for any illness.
Features : It is the most powerful healing and energy amplifier on the planet, because of its unique helical spiral crystalline form. It unblocks energy. Quartz generates electromagnetism and dispels static electricity. In meditation, quartz filters out distractions. Protects against radiation. It is great for energy saving.