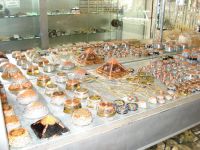 In the center of Athens, at "Atthis" shop, on 17 Pericleous str. you will join us.

We offer a large selection of semiprecious stones and crystals, minerals from around the world and rare collectible rock for minor and major collectors.
Brazil, Africa, Far East, Pakistan, India, Argentina, from wherever all these crystals come from, they have a story and a journey. They expect each of us to charm us, fascinate us and -why not- let us travel in their own magical world.
Come to our place to have a closer look to all of them, to feel the energy, the aura of crystals and the power that only the earth can give. Come and pick yourself a crystal for you. Although, in reality, it's the crystal that chooses you.
We are here to help you. In this area we are not the oldest, but we try every day to become better and learn from our experiences. We have the knowledge, we intend, we can do better. Come by to resolve any questions you might have.
The crystals are priceless, they do not have an end, every day we discover something new! We have a wide collection of species. Ask for what you want. If there is in our collection, we 'll find it for you, we will do our best to meet your requirements!