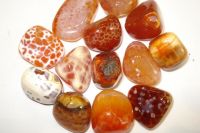 Hardness : 7
Found at : USA, Czech Republic, India, Iceland, Morocco, Brazil
Color : Brownish, red, orange, blue, green
Treatment : Stomach, nervous and endocrine systems, malfunctions of the circulatory system. Helps the eyes, strengthening night vision. Placed on a burned chakra it restores it calmly in balance. On a minor level fire agate clears the etheric blockages and energizes the aura.
Placement : Can be put for long periods on the head or body, depending on the case.
Features : Fire agate works intensely protective, creating a protective shield around the body.
Stone sign : Leo