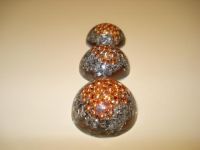 Bull small sized table orgonite
Diameter : 3 cm
Ideal table orgone device, which converts negative energy DOR to positive OR, as explained by Reich's orgone theory.
The shape is hemispherical, or bull, as they say. There are copper balls on the top, then the aluminum and the base is copper coil, all in epoxy resin of two components.
Ideal size to have it always with you, in your bag, car or wherever it suits you.
Price : 10 €