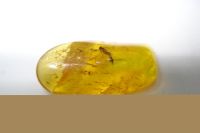 Hardness : 2,5
Found at : Poland, Romania, Russia, Dominican Republic
Color : Yellow, golden brown
Treatment : It is a great cleaner of the chakras and a therapist. It has the power to pull the illness, absorbing pain and negative energy. Relieves stress. Treats disorders of the neck, stomach, spleen, kidneys, gall, bladder and liver. Can stimulate the navel chakra and helps to ground actions in the body.
Placement : Put it on the wrist or around the neck. Ιf you treat babies and children, it is beneficial for the mother to wear an amber first.
Features : Amber is not a crystal, it is tree resin that became fossilized. Absorbs negative energies.
Stone sign : Leo